Are sensory socks useful?
Before answering, have you heard of sensory socks? They're like special socks that can help people who have a hard time with their senses.
As someone who helps people with autism, I've seen how great these socks can be for folks of all ages who have trouble with their senses.
I wanted to share this info with you, so you can learn what they are and see if they could help you or someone you know.
---
KEY TAKEAWAY
Are sensory socks useful?
Yes, they are quite useful, especially for calming children with SPD or ASD.
---
Did you know? According to the article in JAMA Network (1), one in 6 children have sensory processing difficulties, which means roughly around 17%, and that number is pretty significant.
Why should you know this? Because I want you to know that there is hope to give good care to your child with special needs.
Before continuing, let's hear the story from David, a special needs parent.
David is a dad to a little boy who sometimes feels a bit overwhelmed by all the noises and sounds around him.
He tries his best to help his son feel calm and comfortable, but it can be tough.
One day, a friend suggested trying out something called sensory socks.
David was a bit unsure at first, but he decided to give it a try.
It was like magic! His son loved the stretchy feeling of the socks and it helped him feel more at ease.
David was so happy to have found something that could make his little boy feel better.
Now, after hearing the little bits of the story, do you understand a bit about sensory socks?
Without further ado, let's learn about these sensory socks!
Sensory Body Sock
What is sensory sock?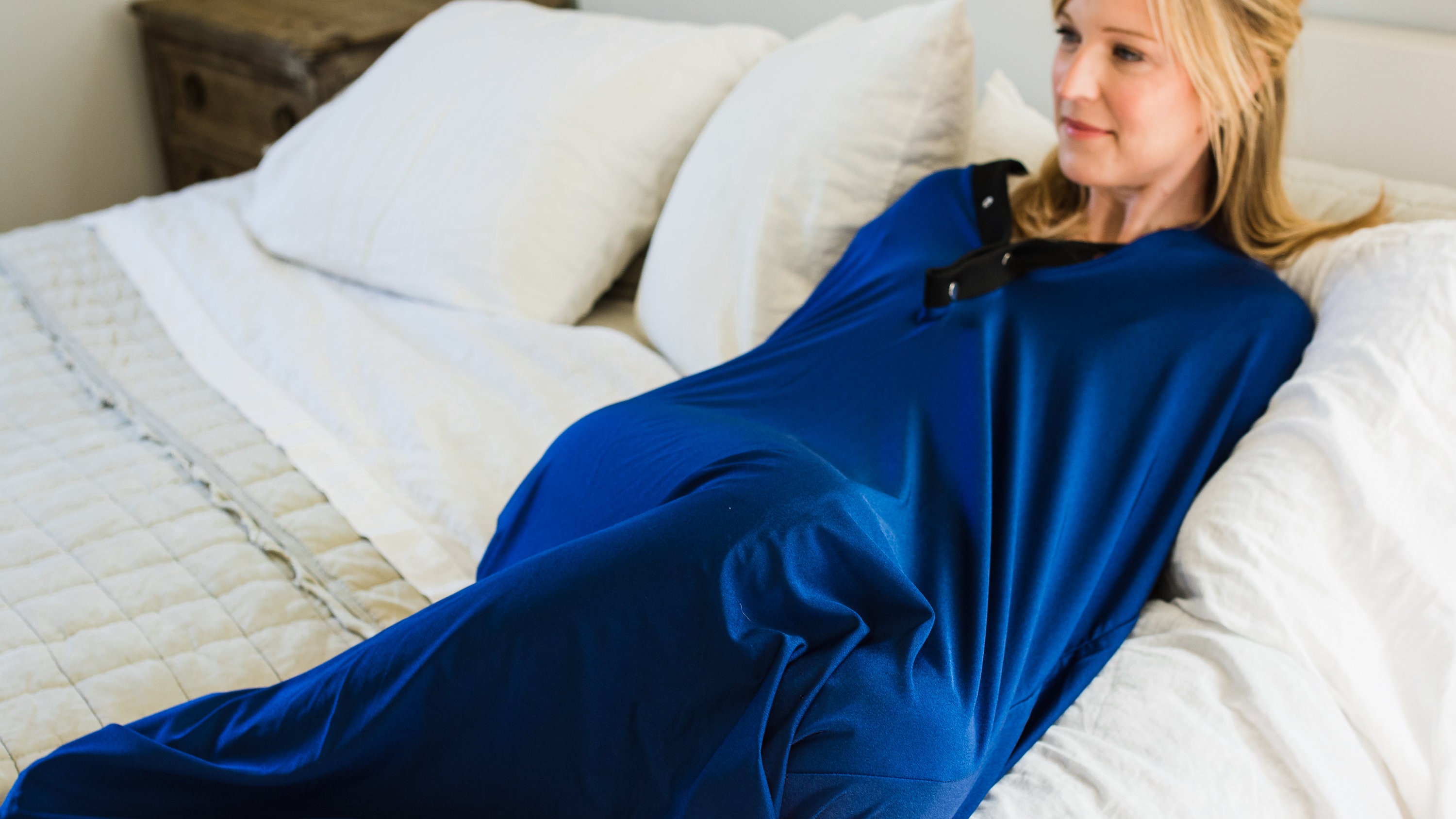 Have you ever heard of sensory socks? They are super cozy and stretchy socks that you wear all over your body! Sensory socks are really helpful for people who have trouble with their senses, like kids with autism.
The socks give a gentle hug to your body that can make you feel calmer and more organized.
Plus, they can help you get better at moving your body in all sorts of ways!
As an autism specialist, I know that body sock is a fun and great tool for kids who have sensory issues.
It can help you feel more aware of your body and help you get better at moving in cool ways.
You can use sensory socks to play games like crawling and rolling, or even do fun obstacle courses!
But it's important to talk to a grown-up or a therapist before trying sensory socks.
Not everyone likes the way they feel, and you want to make sure you're using them the right way.
You also want to make sure they fit just right!
If you do decide to try sensory socks, make sure to talk to customer service to find the best one for you.
And always use them with a grown-up or therapist to help you get the most out of them!
So, if you or someone you know has sensory issues and wants to try something new, sensory socks might be just the thing to help you out!
What's next?
How do sensory socks work in sensory activities?
Sensory socks are a special type of sock that can help our bodies feel better.
They do this by giving us something called deep pressure input.
In occupational therapy, this can be calming and help us move our muscles better.
These socks can be really fun to use in a sensory room or to play on an obstacle course.
They can also help us with something called proprioceptive input, which means we become more aware of our bodies or sensory systems.
Sensory socks can be used by both kids and grown-ups.
They are easy to put on and take off because they have a snap closure.
But it's important to know that not everyone likes them.
If you want to try sensory socks, it's best to talk to someone who knows a lot about them, like an occupational therapist or a sensory specialist.
Overall, sensory socks are a great tool for helping us feel better and move our bodies in new ways.
They're especially good for people who have something called sensory processing disorders.
Here's the thing…
Who can benefit from using sensory socks?
Sensory body socks are like stretchy body socks that can help kids and grown-ups who have trouble with their senses.
These socks can help children and adults feel calmer and in control, resulted in better sensory integration.
They work by giving deep pressure input, which is like a big hug from the sock.
This can help with body awareness, motor planning skills, and fine and gross motor skills.
Sensory socks are not just for people with sensory issues but can be helpful for anyone who needs some extra sensory input.
They can be used in a sensory room, a special kind of room with things that feel interesting or calming.
Or, they can be used during yoga poses or other sensory activities that help people move their bodies in different ways, resulted in better fine motor skills.
It's important to use sensory socks safely, so make sure to always have an adult nearby to help.
Some kids may not like the feeling of the sock at first, so it's important to go slow and be patient.
If you're thinking of getting sensory socks, ask a professional therapist or sensory specialist for help.
What does an expert say about sensory socks?
A body sock is a sensory tool or toy that looks like an enormous pillowcase, but the opening to the pillowcase has a slit in the middle and the fabric is stretchy.
Body socks were designed for a child to climb inside and stretch out the arms and legs, in doing so the fabric provides a lot of resistance.
Kids often like to put their heads in as well.
Alisha Grogan MOT, OTR/L, author of yourkidstable.com (2)
Sensory socks are a great tool for children with sensory processing issues, like cerebral palsy, and for children without diagnosed sensory issues who want to help their bodies feel good, and make sensory play much better experience.
They also have a lifetime guarantee and many people have said good things about them in customer reviews.
Keep reading…
What are the potential benefits of using sensory body sock for your child?
Sensory socks, also called body socks, can help people who have trouble with their senses.
They can help kids and grown-ups in many ways, like moving better, knowing where their body is, and feeling calm.
You can use them at home or in therapy, and they can go with other sensory toys like lap pads or sensory sacks.
The stretchy sock is perfect for yoga moves and gives your body special feelings.
It's important to know that not everyone can use sensory socks.
Some people need help from an adult or might have trouble moving.
But for those who can use them, sensory socks can be a great tool to help with moving, feeling better, and relaxing.
You can find them online and some places give free shipping and a lifetime guarantee.
They're a cool gift idea for kids who have trouble with their senses or who just like special toys.
And here's another thing you should know!
What are the potential drawbacks of using sensory body socks?
Sensory socks are great, but they might not work for everyone.
Some kids with sensory issues might not like the feeling of the stretchy fabric.
And young kids might need help using them so they don't get hurt.
Sensory socks are just one tool that can help kids who need extra sensory input.
Other tools include weighted blankets, sensory toys, and heavy work activities.
They all help to calm and organize the body.
Before you get sensory socks for your child, talk to their occupational therapist or healthcare provider to see if it's a good idea.
And make sure you read the rules and return policy before buying them.
More on are sensory socks ok to wear to bed.
What's the bottom line?
Conclusion
To sum it up, sensory socks can be helpful for people who have trouble processing sensory information.
They can make you feel cozy and help you handle all the stuff your body senses.
If you or someone you know has trouble with your senses, it might be a good idea to try sensory socks.
Just make sure to ask a doctor or an expert first before using any new sensory tool.
So, be curious, learn new things, and stay open-minded!
References
https://jamanetwork.com/journals/jamapediatrics/fullarticle/2707900
https://yourkidstable.com/sensory-body-sock/
Related Articles
I am a highly experienced and dedicated special needs educator with a passion for helping special needs children reach their full potential. With over 10 years of experience in the field, I hold a Masters in Special Education and am a sought-after expert in the field.
In addition to my work as a special needs educator, I also actively write for Soul-Socks.com, a website dedicated to discussing the benefits of sensor body socks. Her articles are insightful and informative, providing readers with valuable information about how sensory experience can help improve the lives of children with special needs.
In my spare time, I enjoy volunteering with local organizations that support special needs children and their families. He is also an avid reader and enjoys spending time with his family and friends.